Bernd Ziegler — the 3 Millionth SETI@home User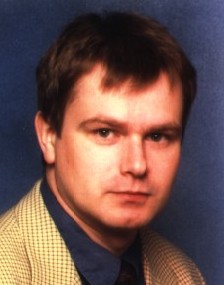 Bernd Ziegler is personally responsible for SETI@home reaching the 3 million user mark. Why? Because he is User Number 3,000,000 himself! Bernd first heard about SETI approximately 15 years ago, but only learned about SETI@home a month ago after reading a magazine report about the project. No stranger to science, Bernd is a physics engineer who specializes in optics and lasers. Perhaps we'll try to enlist his services when SETI@home starts examining laserbeams for extraterrestrial communication!

Mr. Ziegler currently lives near Frankfurt, Germany, with his girlfriend and little daughter. When not crunching SETI@home data, he enjoys philosophy, astronomy, and karate.

Who will be User Number 4,000,000?
Return to SETI@home page
Copyright ©2001 SETI@home